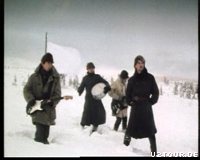 In 1983 the world was still divided in two. Communist and Democratic. The "Solidarity" movement in Poland was taking place. Hundreds of millions of people were suffering and languishing behind the Iron Curtain. U2 were inspired by this and wrote what became one of the songs of the year in 1983.
In 2005, after the thaw of the 1990s the world seems split once again, and still hundreds of millions suffer. Some in Africa, some in the Middle East, many in the West. Let's be thankful for our abundance and good fortune and work to ease the lives of the suffering in 2006.
All is quiet on New Year's Day
A world in white gets underway
I want to be with you
Be with you night and day
Nothing changes on New Year's Day
On New Year's Day
I will be with you again
I will be with you again
Under a blood red sky
A crowd has gathered in black and white
Arms entwined, the chosen few
The newspapers says, says
Say it's true it's true...
And we can break through
Though torn in two
We can be one
I...I will begin again
I...I will begin again
Oh...
Maybe the time is right
Oh...maybe tonight...
I will be with you again
I will be with you again
And so we're told this is the golden age
And gold is the reason for the wars we wage
Though I want to be with you
Be with you night and day
Nothing changes
On New Year's Day
On New Year's Day
-U2
New Years Day from "WAR" 1983